VEOH.com DOWNLOAD ONLINE VIDEOS on your computer
LINKS OF CURRENT CULT FILMS AT END OF ARTICLE
DO YOU EVER WANT TO KEEP YOUR ONLINE VIDEOS on your computer?
Download
a VIDEO BROWSER/PLAYER from VEOH.com.
On your desktop, the browser will store videos, manage downloads and uploads and make playback. CLICK IMAGE to SITE.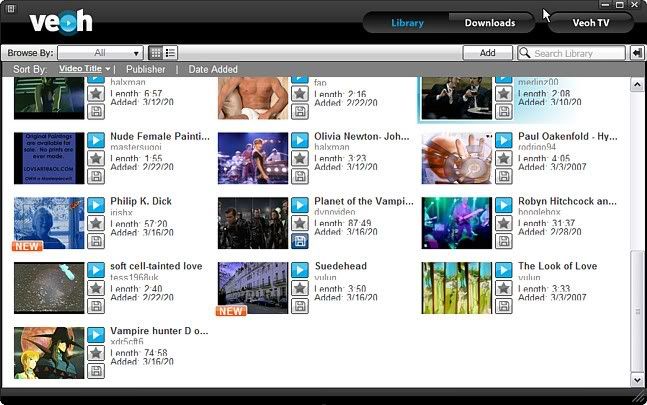 There are so many sites to find special interest and cult material and old and new videos. To name a few, youtube.com, ifilm.com, dailymotion.com, peekvid.com and many more. VEOH.com is the only site that lets you to download the videos and keep them on your computer.
The browser will manage playback but if the media file can be read in other media players you may prefer those for playback. I notice the slightly fuzzy and unsharpened picture that results in the veoh.com media player. Some of the videos downloaded by me, played only in the veoh browser. Something about file codecs, I guess.
CURRENT FULL LENGTH .avi downloads:
Vampire Hunter D
Dawn of the Dead (1979)
Creepshow
Zombie
(1979)
Planet of the Vampires
(1965)
HEAVY METAL.
Evil Dead
Evil Dead 2
A Hard Day's Night
(Beatles)
Aeon Flux
Part 1 Animation
1Hr 47 mns.
Big Trouble in Little China
Grudge 2
Serenity [2005]

Meet the Feebles
MUSIC VIDEO:
"SUEDEHEAD"
by Morrissey
DOCUMENTARY:
Philip K. Dick
57 min.s
powered by performancing firefox